A comprehensive collection of the web's best Italian recipes - italianrecipes.ca - Recipe of the Month

Every month we will add a new recipe that we believe deserves the merit of the Recipe of the Month. If you have a secret recipe that you can send us we will cook it up in our kichen and share the experience with our visitors, This can be a great opportunity to have your story shared with the web community. Send us your recipe today. Now that the Cristmas Holidays approach and for a great gift idea visit The Allen Brothers for gourmet food gift baskets.
Traditional All Dressed Pizza (round 16") - submitted by Elena Fragapane (my Story) This is the pizza recipe my husband used when he owned a restaurant in 1989. The Pizza Parlour was very popular in our little town between 1989 and 1993. Running a small restaurant involves many hours and we decided to sell it. I'm happy to share this recipe with pizza lovers..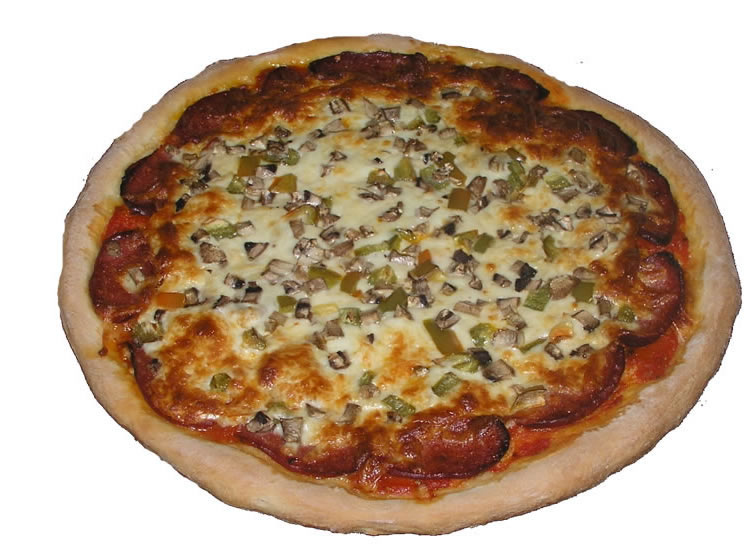 Ingredients for pizza sauce
• 3 teaspoons Pure Olive Oil 45 mL
• 3 garlic cloves - diced
• 1/2 a medium onion diced
• 1 teaspoon salt
• 1 teaspoon pepper
• 1 teaspoon sugar
• 1 teaspoon oregano
• 1 tsp chili or one fresh halapino pepper
• 5 basil leaves - cut in small pieces
• 3 cans san marzano tomatoes 28 ounces each can (whole tomatoes)
Directions:
1• It is very important that you heat the oil and add the onions first and the garlic second and fry them to a light golden brown.
2• Add the 3 cans of whole tomatoes
3• Blend in the salt, pepper, fresh basil leaves, sugar, oregano and dried chilli peppers
4• Bring to a boil and simmer low - medium heat for 25 minutes
This pizza sauce recipe will allow you to spread sauce on 4 large 16" pizzas. recipe courtesy Pizzazz Pizza (circa 1989)
Ingredients:
2 envelopes (16 gram total) dry yeast
1 1/2 tablespoons sugar
4 tablespoons olive oil
2 tablespoons tenderflake or crisco (tenderflake gives golden colour)
8 cups unbleached all-purpose flour (depending on your thickness)
1 1/2 tablespoons salt
1 bottle of beer
In a seperate measuring cup add 1/2 cup of luke warm water
In a seperate measuring cup add 2 1/2 cups of cold water
As a rule 2 cups of flour makes a regular crust 16" pizza.
This recipe is for 4 regular crust 16" pizza's.
Description:
1• In a seperate measuring cup add 1/2 cup of luke warm and add 2 envelopes yeast and 1 1/2 tablespoons of sugar. Mix and let sit for 6 to 10 minutes.
2• In a seperate measuring cup add 2 1/2 cups of cold and add 4 tablespoons olive oil, 1 1/2 tablespoons of salt and 2 tablespoons of lard (tenderflake and crisco).
3• In a large dough mixing bowl add 8 cups of flour.
4• Turn on dough mixing machine on speed 2 and add the yeast mixture slowly. Add the beer slowly and then add the 2 1/2 cup water mixture slowly.
5• Once the dough blends well together and has a smooth texture remove it from bowl and roll it into a long sausage shape and cut in 4 even slices.
6• Knead the dough until it is smooth, springy, pliant into 4 balls.
This should take about 5 to 8 minutes. Return the dough on a oiled pan and cover with a damp cloth, and let rise until doubled.
Rising generally taken 2 to 3 hours. Makes four large 16 inch pizzas. This recipe courtesy Pizzazz Pizza (circa 1989)
When dressing the pizza you need the following ingredients:
• 12 mushrooms
• 2 green peppers
• 3 pepperoni sticks
• mozzarella cheese 1000 grams
Description:
1• Spread dough gently when ready and spread it so it fits a round pizza cooking pan, well oiled.
2• Spread tomato sauce. Don't overdo it, it will become soggy.
3• spread pepperoni
4• Spread cheese
5• Spread vegetables in small pieces so they cook properly.
6• Cool at 375 degrees until lightly browned then remove from pan so that the pizza bottom cooks crisp. Cook until pizza browned.
| | | | |
| --- | --- | --- | --- |
| | | | |
| Step 1 - 2 - 3 | Step 4 | Step 5 | Step 6 |